The Aspire Kitchen and Bath team can help you transform your old bathroom into the space you've always dreamed it could be. Our designers will help you imagine and plan your perfect oasis, and our skilled craftsmen will bring it to life. You'll have a beautiful new bathroom where you can wash away the cares of the day in a space you love. Whether you're looking to change your bathroom into a spa-like retreat, just freshen up the look, or make functional changes for aging-in-place or handicap needs, our team can do it!

There are so many options in bathroom vanities and functional cabinetry these days. No matter your personal style we have options to fit your needs, from basic built-in vanity cabinets to stand-alone vanities that look like a high-end piece of furniture. Our cabinetry is constructed with high-quality wood and hardware, and there are many added features available such as specialty storage for your bathroom appliances (hair dryers and styling irons) and soft-close drawers and doors.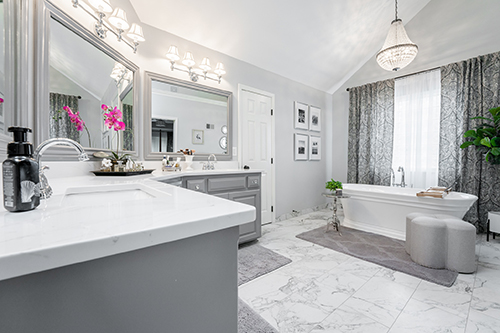 Whether you prefer granite, quartz, or solid surface, we can find the perfect bathroom countertop for you. At Aspire, we cut and fabricate your custom countertop right here in our own facility, so your project schedule is never at the mercy of some other fabrication shop. We make sure that your new countertops are ready on time and fit right the first time.
Are you looking to replace your old tub with something new… maybe a slipper tub as a focal point with a stunning accent wall, or a jetted tub for your relaxation, or a walk-in tub to address physical needs and comfort? We offer choices that deliver both style and function. As the trend has been with homeowners, maybe you want to get rid of the tub altogether to make room for a large, beautiful shower area. Do you want a solid surface or custom tile shower? How about extras like a shampoo caddy or corner seat? Have you ever wished you had a steam shower? Aspire can do all that! Our designers will help you determine the plan to best suit your needs and desires, and our craftsmen will build your beautiful dream.
Aspire has craftsmen who are so masterful in their tile work that they create works of art with tile. For your shower, flooring, or accent wall, we have many choices in tile type, color, and size. Wouldn't you love a heated tile floor for your cold feet in the morning? Let Aspire help you with that. The finishing touches to complete your new bathroom might include stylish faucets, mirrors, lighting, and accessories that really make your bathroom YOURS. We use only the highest quality plumbing fixtures and accessories, and of course, they will be installed by our master craftsmen.
That's our motto, and it guides our whole process. At Aspire Kitchen and Bath, we're just as focused on providing you with the best and easiest remodeling experience as we are on giving you an incredible new bathroom. We like to think of it this way: how would we like our grandma to be treated? And the answer is… with respect, fairness, kindness, timeliness, and with excellence. That's exactly how Aspire will serve you. Don't believe us? Check out our reviews to see what our clients have to say.
Schedule your free consultation today!
If you're ready for a remodeling experience with a team that aspires to do better than industry status quo, we're the remodeler for you! Schedule your free in-home consultation today.
Introduce us to your family and friends and get automatically entered to win a fabulous prize!