Our Story: Proven Expertise — and Family Heritage
Dave and Lori Cummings are lifelong residents of the Kansas City area and bring a heritage of home improvement expertise to their company, Aspire Kitchen and Bath Solutions. A decade ago, Dave and Lori launched a home improvement company in their basement — and the company doubled in size each of its first three years, quickly growing into Kansas City's largest kitchen and bathroom remodeler. The company's excellent work and strong service quickly put Dave and Lori on the map, establishing a reputation as remodelers of choice.
Dave and Lori recently accepted a buyout of their shares in the prior company, but their mission and heart for improving Kansas City's homes remains unchanged. That vibrant, down-to-earth commitment comes to life at Aspire Kitchen and Bath.
In addition to Dave and Lori's experience and expertise, their son Tony, who manages the stone fabrication and installation at Aspire, has a vast knowledge of granite and other stones. His decade of work in the granite industry gives him the tools to deliver exceptional quality stone for Aspire's clients.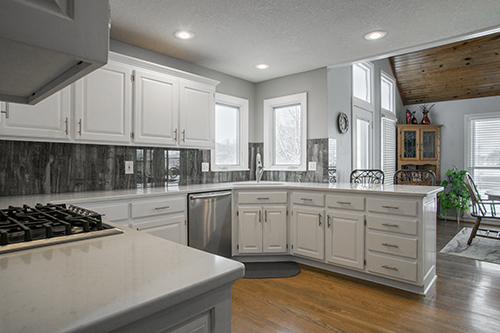 Homeowners deserve a remodeling company that's committed to doing what's right. Everyone at Aspire Kitchen & Bath Solutions shares a dedication to excellence and attention to detail. When you choose Aspire for your kitchen or bathroom remodel, you're adding style and function to your home for decades to come.
Forget industry standard and look forward to more with Aspire. We're committed to go above and beyond the "typical". Because what's right is right.
Aspire can serve you in any type of residential remodeling, but with a special focus on kitchens and bathrooms… and we will be the very best at it. From minor upgrades to full renovations, we bring the track record you can rely on.
Homeowners choose Aspire as a remodeling contractor for bathroom remodeling, home renovation, kitchen remodels and more. Our goal is always to complete excellent work using quality materials on a realistic timeline, while maintaining regular communication with our clients.
Schedule your free consultation today!
If you're ready for a remodeling experience with a team that aspires to do better than industry status quo, we're the remodeler for you! Schedule your free in-home consultation today.
Introduce us to your family and friends and get automatically entered to win a fabulous prize!